Why I chose this:
Reviews
GEME - The world's easiest food waste composter for home composting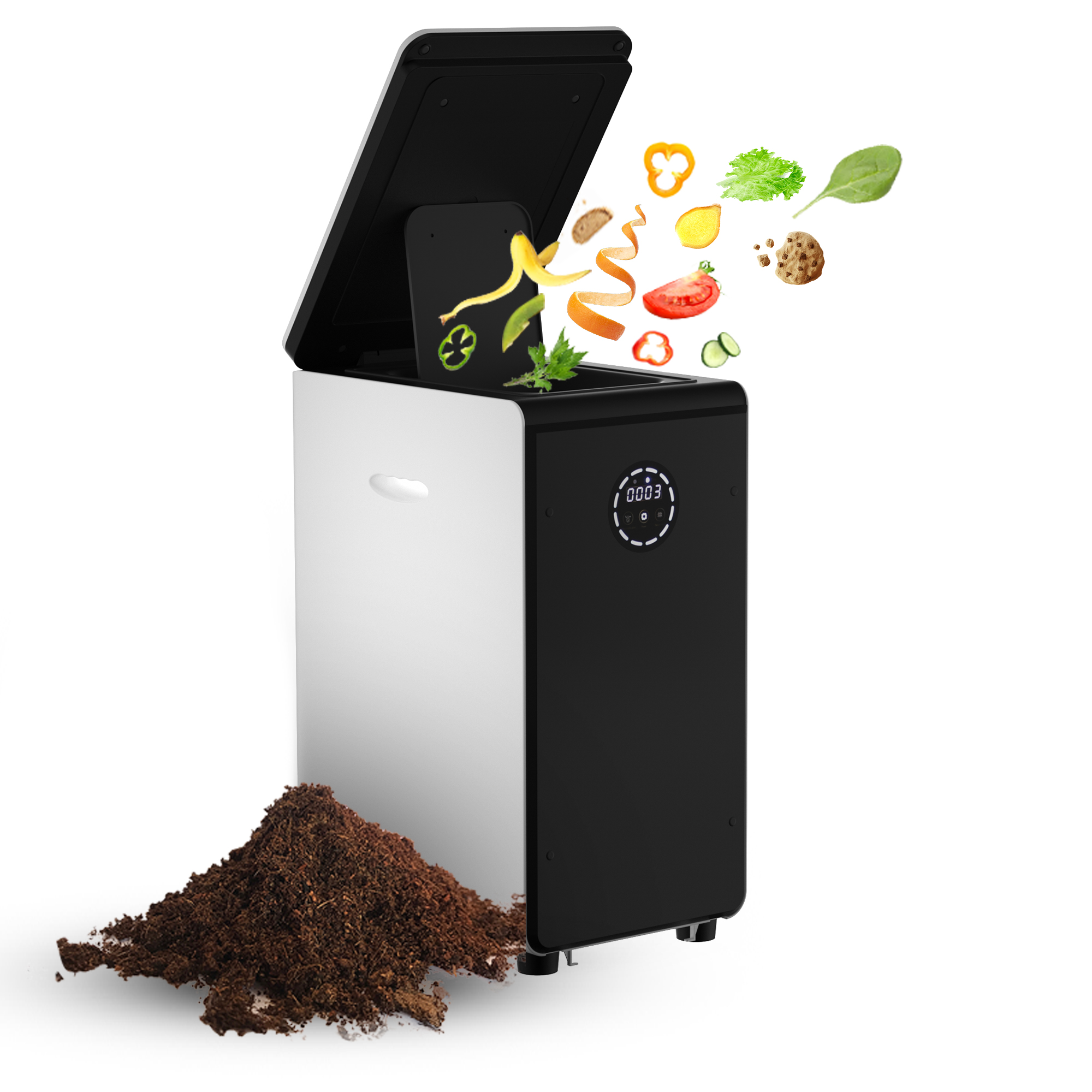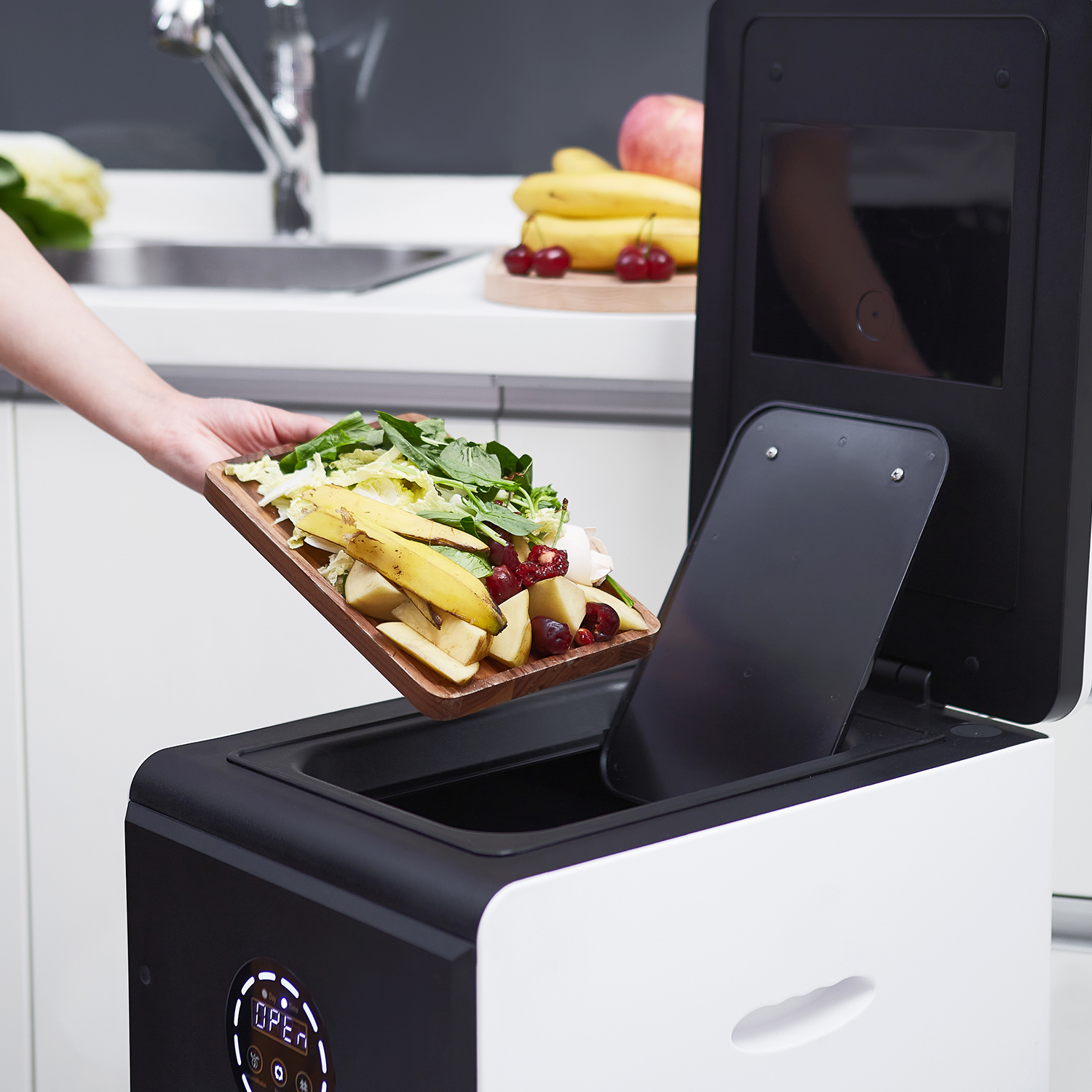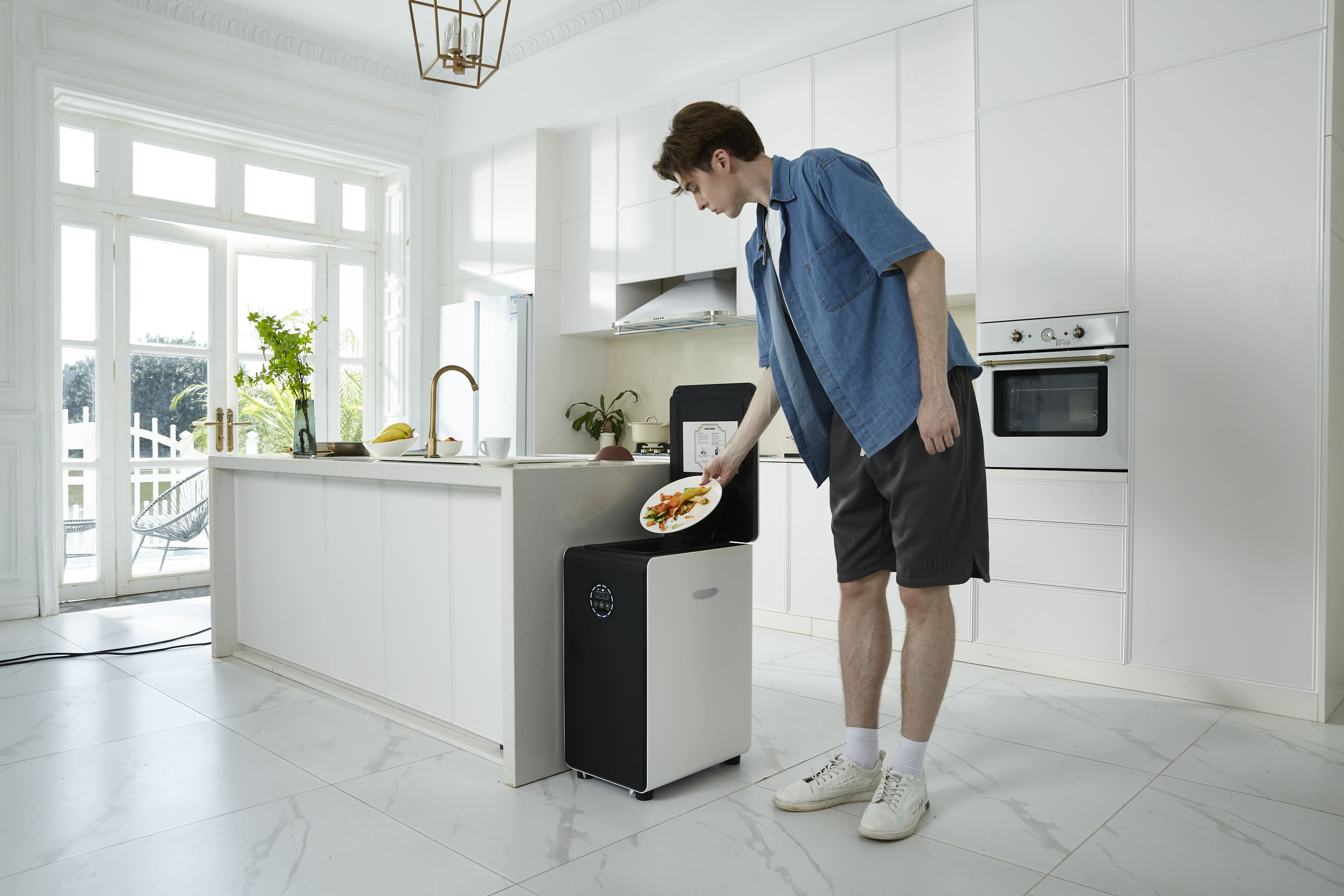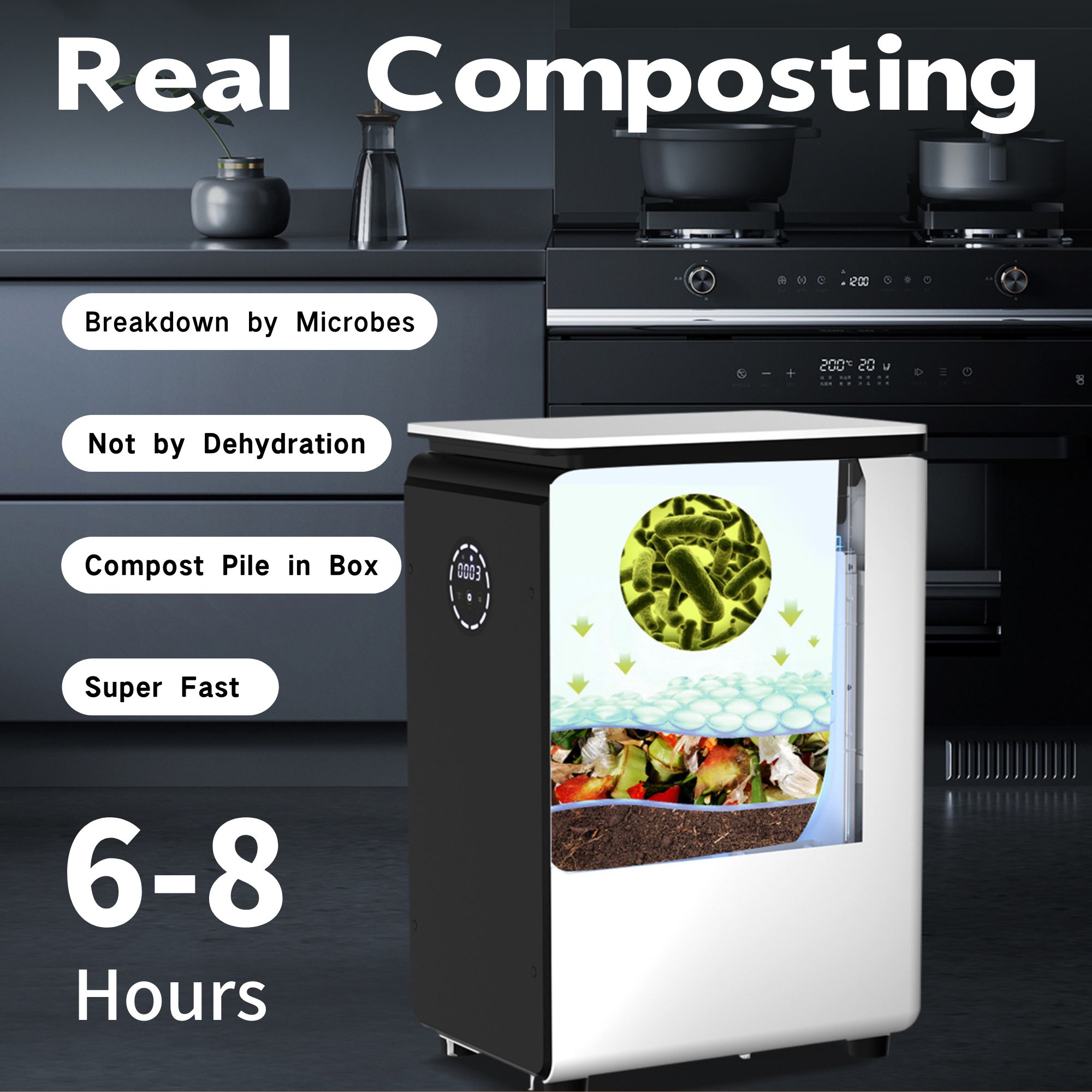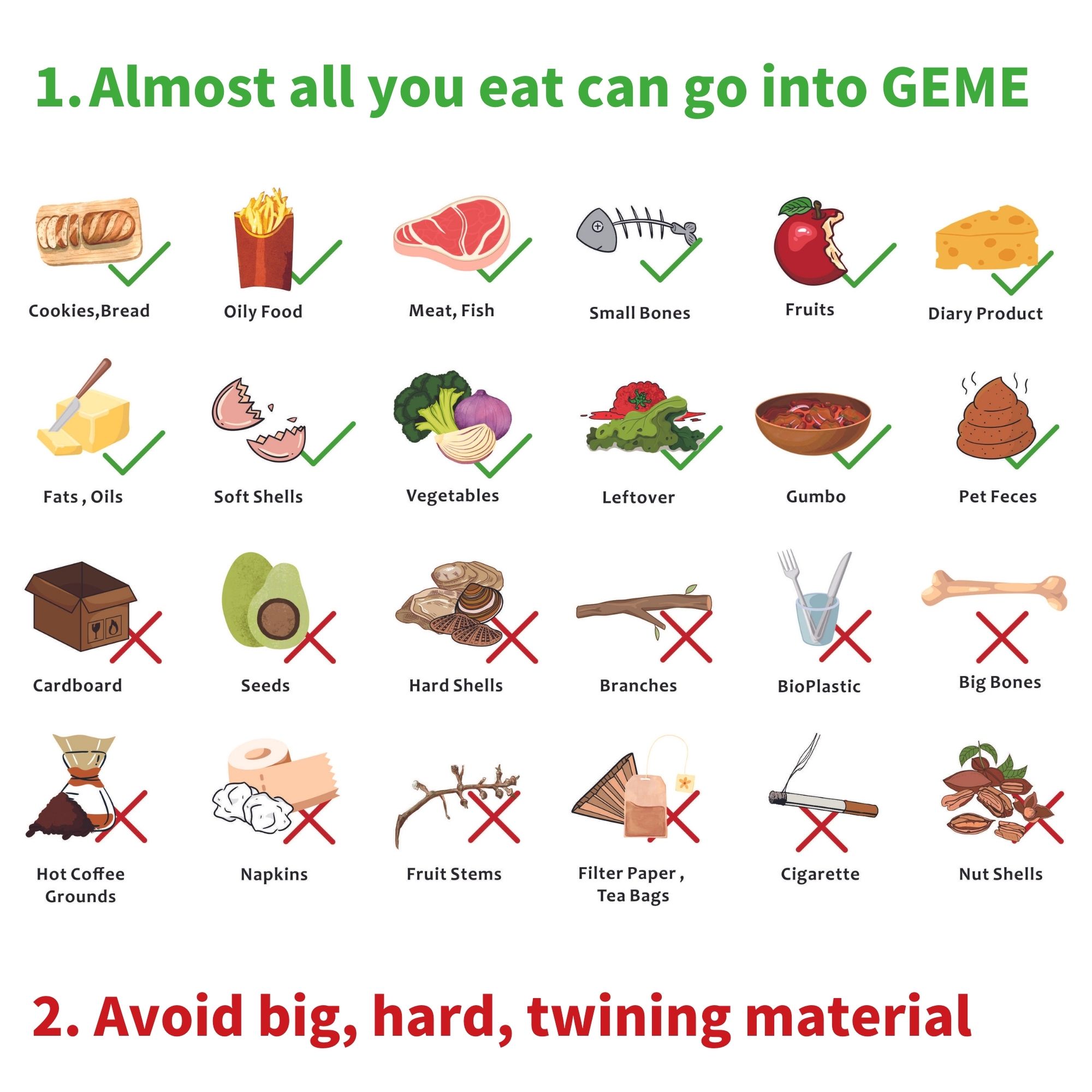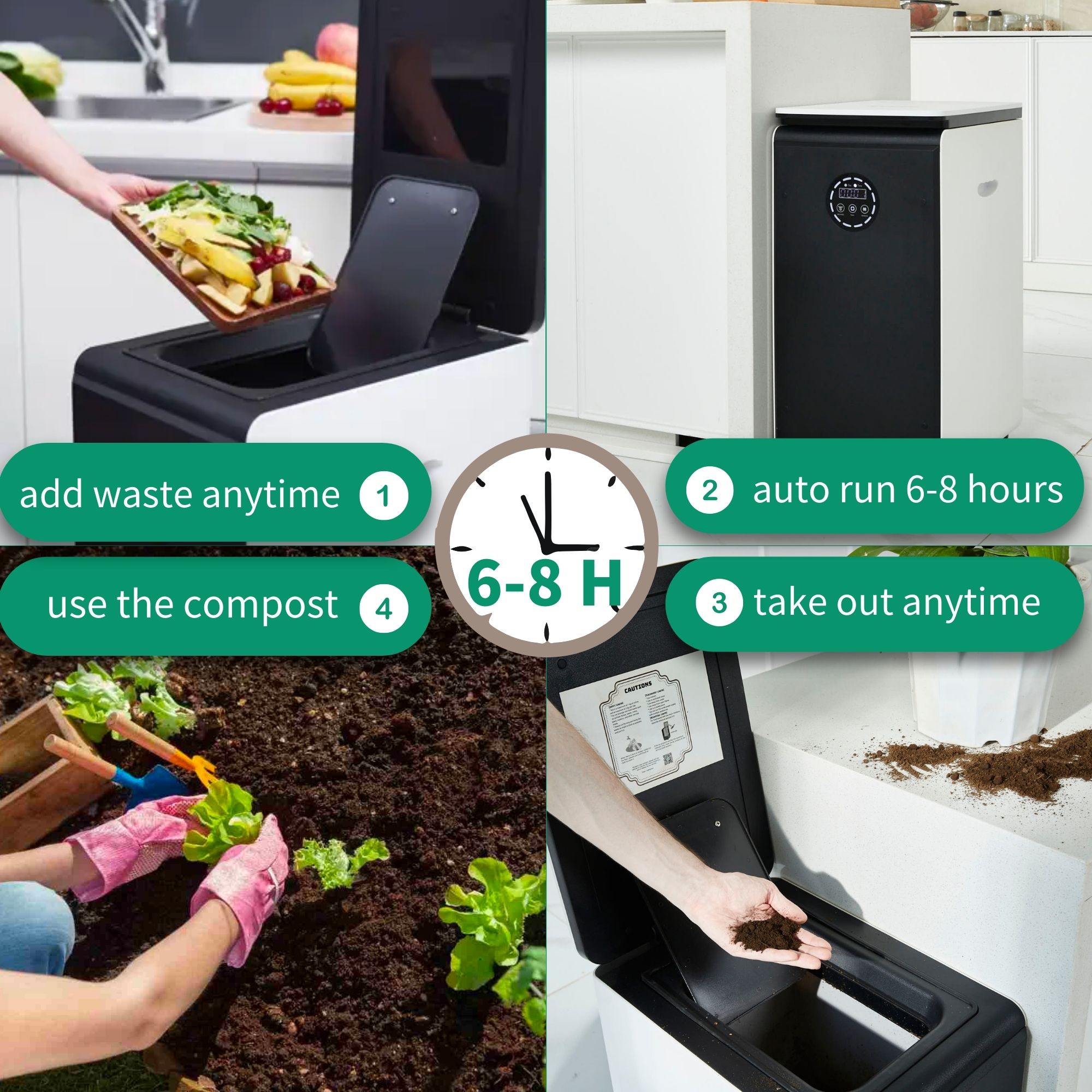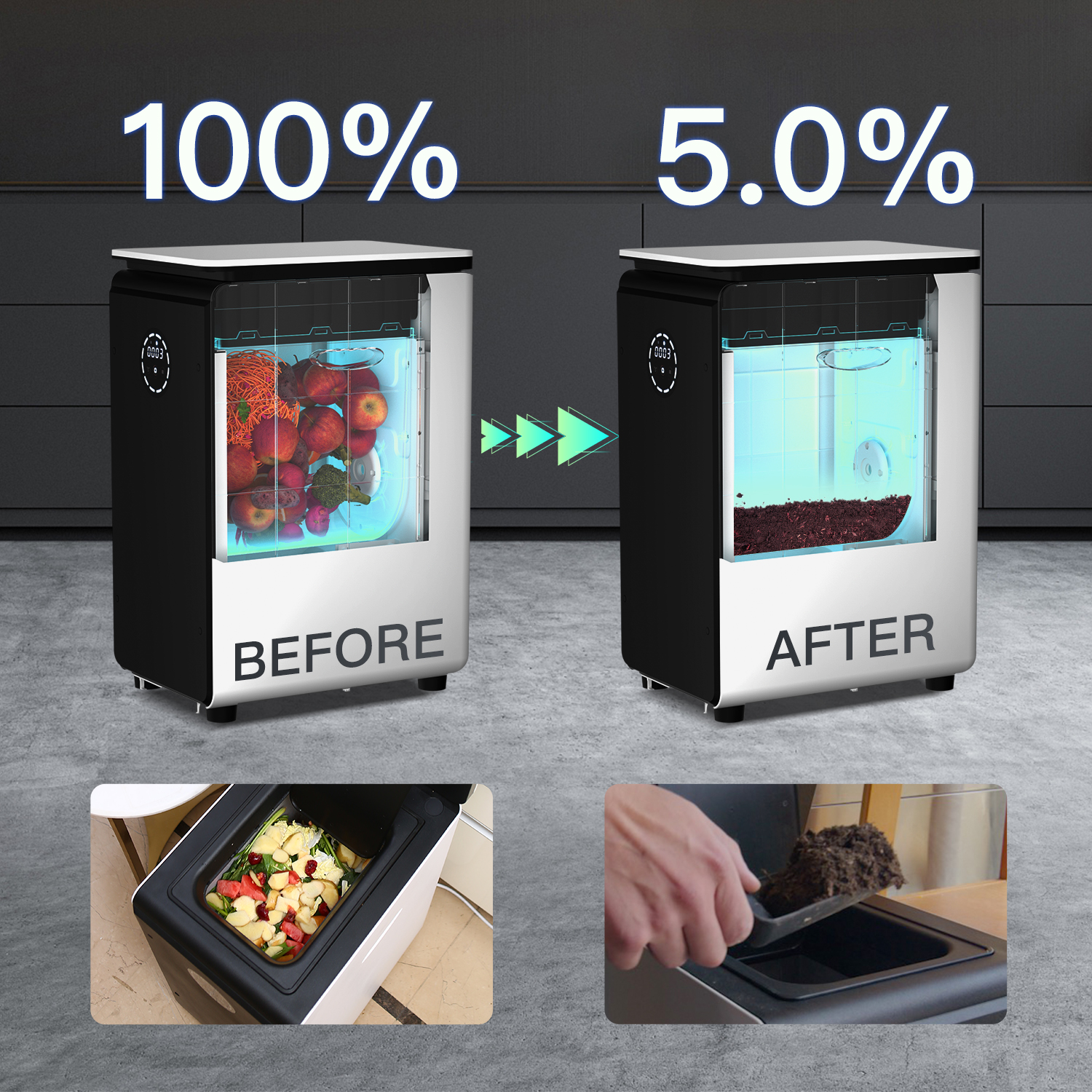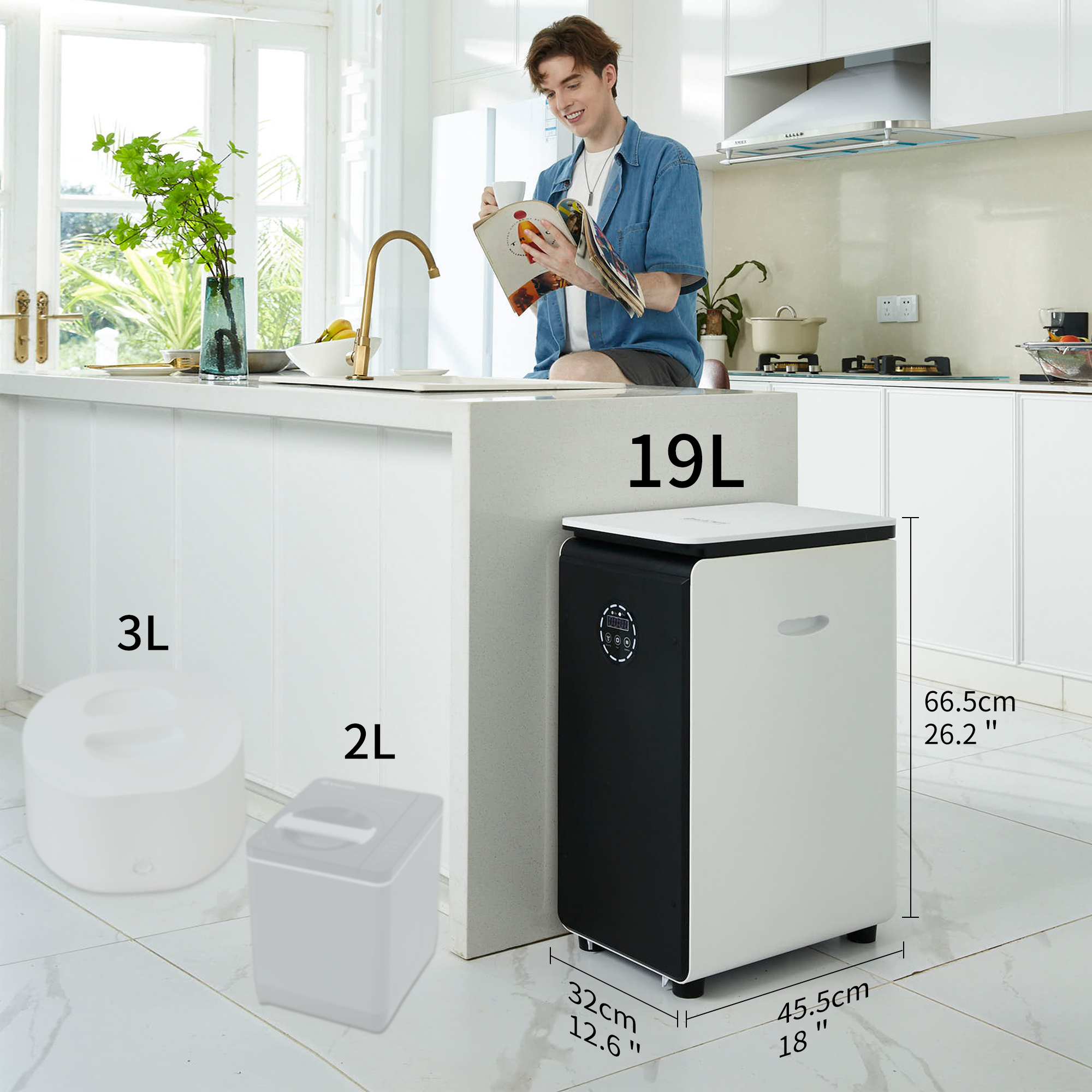 Additional details for GEME Composter Warranty
30-Day Free Trial(no return shipping fee)
ISO 140001 Environmental Management System Certified
Free Shipping in United States(except HI, PR, AK)
ISO 45001 Health & Safety Management Systems Certified
1 Year Happiness Guarantee
ISO 9001 Quality Management System Certified
"We are tackling recycling and waste in medical setting. The 6-8 hr turn around time for making compost on your product is ideal for the 8 hr and 12 hr shift."
- Sherwin O.
You will be shocked at
how fast food waste breakdown
Rapidly decompose bio-waste into real organic compost within 6-8H
Complete restoration of the entire process of natural composting
Using the methods of purely natural microbial decomposition
Only 5% of the by-products left are after the bio-waste is decomposed
By-products improve the soil environment and purify water bodies
Organic compost
not dehydration
The combination of technology and nature: GEME provides the most suitable environment for natural reproduction and degradation of the natural microbiota, allowing the microbiota to rapidly degrade the bio-waste into highly active organic compost.
Grinding the waste and then drying at high temperatures yields only burnt waste. GEME does not work in this way.
Warning: burnt waste cannot be used for cultivation, it is not only toxic to plants but also causes soil and water pollution due to surface runoff.
Meet GEME
All Things Live Forever and In Harmony with The Earth
World's Most Advantage Biotechnology
Turn Bio-waste Into Excellent Organic Compost Easily. Harvest Organic Fruits, Vegetables And Flowers On Your Balcony And Backyard.
Smart your life

Easy to Use

Save your time

6-8H Super-Fast

Facilitate your life

Add Bio-Waste Anytime

Simplify your life

Multi Recyclable Waste Options

Peaceful life

Silent design

Safe life

Intelligent Protections

Diverse life

Multiple specifications
Why do you need GEME?
You do not own a yard or garden, but you would like to do composting at home? Or you just want to a simple solution to solve your kitchen waste, it happens to be Eco-friendly which makes our planet better. What you seek is seeking you!
Free your hands

from gross food waste
Add bio-waste anytime to dispose of instantly
No pushing a button
No waiting for processing to complete
No cleaning the inner tub after each use
2 months, half a year, even 1 year only clean one time
Making composting
has never been easier
Composts in 6-8 hours, no waiting 6-12 months
Compost whenever you want, regardless of the heat or cold
Composts such casually, no need to pay attention to the carbon-to-nitrogen ratio
Composts such easy, no turning, no management
Goodbye!
Stench, sewage, vermin, ants, rats!!!
GEME helps in many places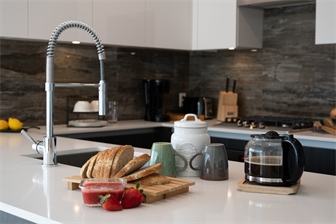 House Kitchen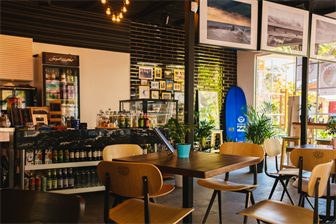 Restaurant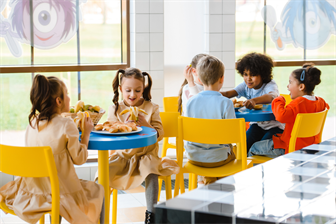 School Canteen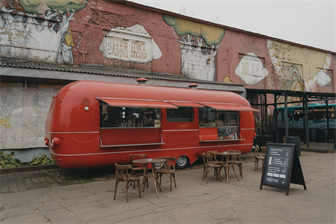 Food Truck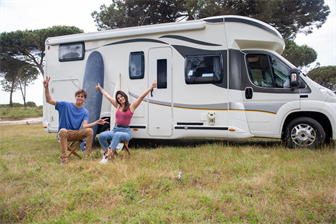 RV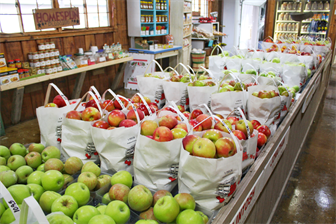 Express Supermarket
Harvest your flowers, organic fruits and vegetables

in your backyard and balcony

Highly active organic compost enriched with GEME-Kobold makes your plants healthier
Higher organic matter content of soil, more developed root system of plants
Better soil mass structure, more loose and breathable, better plant growth
The more beneficial microorganisms in the soil, the higher disease resistance of plants
No herbicides, no pesticides, no chemical fertilizers
GEME makes your plants healthier
Reduce your food waste and
reduce your carbon footprint
Little or less? GEME helps you the choice is the least when it comes to reducing food waste.
Up to 95% of food waste is broken down into clean air by GEME.
This means a direct reduction of 95% of the methane gas emitted by landfill food waste
This also means a direct reduction of 95% of the fuel used to burn waste and toxic dioxin emissions
This also means a direct reduction of 95% of the carbon emissions of removal vehicles and removal costs
Small design, big change,

we try to gonna do for you more
AI energy-saving: Automatic start-stop, Energy saving, and consumption reduction
Intelligent protection: Open the lid to stop, intelligent thermal protection, comprehensive care for you and your family
Ready when you are: No professional installation is needed
No changing filter: The most advanced deodorization technology, enjoy the fresh air at the same time, so you have no more follow-up expenses
GEME only for a better you, I want to give you all of what you want.
Up to 90% bio-waste can go into GEME
Fruits and vegetables

Expired Food
Bread and grain products

Yogurt and Cheese

Meat and Small bones

Pet feces
Small size and large capacity,

can degrade most organic waste
Using microbiota from nature, most biological waste can enter the GEME

Food waste, Kitchen waste, Yard waste, Pet fects

Up to 19L inner tub, up to 2kg daily capacity: for daily household waste disposal needs
No need to clean up after each use: freeing you from dirty garbage
GEME, makes your life easier!!!
GEME,
the new beginning of fashion life
Fashionable design: you'll want to show it off
Minimalist tones: highlighting your individuality in life
Silence: only 23db sounds as if the leaves are falling around you
Odorless: only good scents from food are left in your kitchen
Simple operation: just need to put bio-waste into GEME, not even push a button
GEME takes you to go back to the essence of life!!!
How will GEME work in your home?
Watch this short video, you will see how your life get improved
Ready to dive in?
Order your GEME today.
With the world's most advanced biotechnology, plus the rigours manufacture supply chain, GEME offers the best product and service over the industry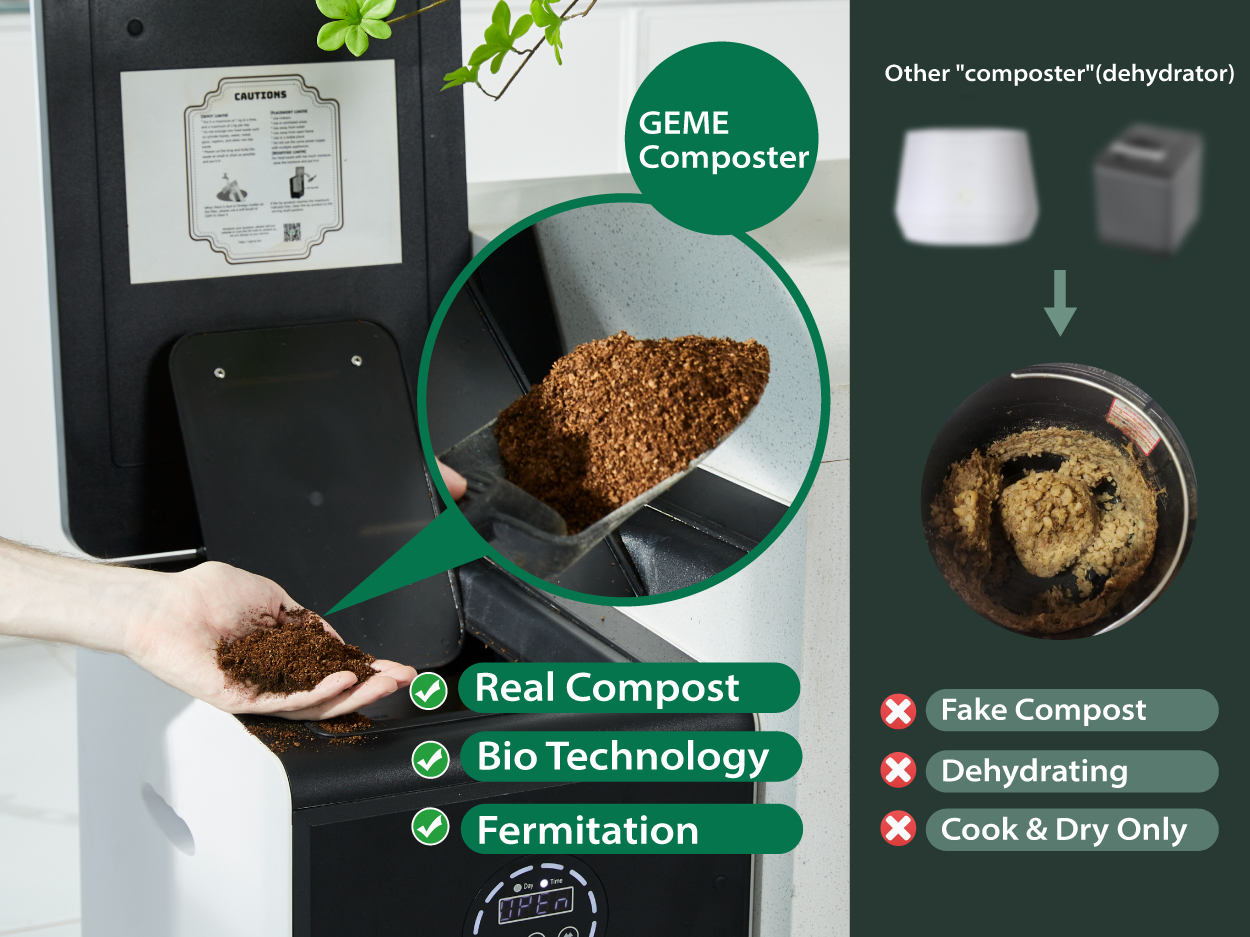 Still looking for the one that belongs to you? Look no further, GEME it is.
GEME
Energy saving

Installation

Easy to use

Add anytime

Type of treatment

Food waste; Garden waste; By-products of processing; Pet feces ...

Filter replaced

No need to replace

Treatment temperature

75-80℃

By-products

Highly active organic fertilizer, water and soil conditioning agent

Safe & Hygienic the by-product

Safe & Hygienic

High temperatures can kill pathogenic bacteria and other microorganisms, but not GEME-Kobold, so organic fertilizer rich in GEME-Kobold is hygienic and vigorous. Use it with confidence!

Circular emission reductions
Garbage processor
Energy saving

Installation

Easy to use

Add anytime

Type of treatment

Food waste

Reduction

Filter replaced

Treatment temperature

Time

By-products

Broken garbage

Safe & Hygienic the by-product

Circular emission reductions
Home dehydrator cyclers
Energy saving

Installation

Easy to use

Add anytime

Type of treatment

Food waste

Treatment temperature

>100℃

Safe & Hygienic the by-product

Burnt garbage is still wet garbage and will expand again when exposed to water. It is toxic to plants and easily causes surface runoff, contaminating soil and groundwater.

Circular emission reductions
Other Bio-waste composter
Energy saving

Installation

Easy to use

Add anytime

Type of treatment

Food waste

By-products

Safe & Hygienic the by-product

Unsafe & Unhygienic

Low temperatures do not completely eliminate pathogenic bacteria

Circular emission reductions
Feature comparison
Business feature comparison

Feature

GEME plan

Garbage processor plan

Home dehydrator cyclers plan

Other Bio-waste composter plan

Odor

Zero

Seldom

Burnt smell

Sour rot smell

Noises

23db

>70db

>50db

30-40db

Energy saving

Installation

Easy to use

Add anytime

Type of treatment

Food waste; Garden waste; By-products of processing; Pet feces ...

Food waste

Food waste

Food waste

Reduction

95%

60-80%

80%

Filter replaced

No need to replace

Frequent

Frequent

Treatment temperature

75-80℃

>100℃

40℃

Time

6-8H

2-8H

10-24H

By-products

Highly active organic fertilizer, water and soil conditioning agent

Broken garbage

Burnt garbage

Safe & Hygienic the by-product

Safe & Hygienic

High temperatures can kill pathogenic bacteria and other microorganisms, but not GEME-Kobold, so organic fertilizer rich in GEME-Kobold is hygienic and vigorous. Use it with confidence!

Burnt garbage is still wet garbage and will expand again when exposed to water. It is toxic to plants and easily causes surface runoff, contaminating soil and groundwater.

Unsafe & Unhygienic

Low temperatures do not completely eliminate pathogenic bacteria

Circular emission reductions
Tech spec
Power

AC110V-60Hz/220V-50Hz

Decibel

<40db (17.3db-23.2db)

Certifications

CE/FCC/ISO9001/ISO14001/ISO45001

Function

Fully automatic quick-acting bio-composting; Safe and energy-saving; Automatic deodorization; Automatic dehumidification
GEME-Kobold
The natural microbiota for composting
GEME composter
The bio-waste quick-acting machine
Shovel
Used to take out organic fertilizer
Scraper
Used for cleaning the decomposition tub
Manufacture ready, waiting for you to pick up
Garbage, Just leave it to GEME